News Details
National Disabilities Employment Awareness Month 2016
#InclusionWorks
Celebrating Disability Inclusion for More than 70 Years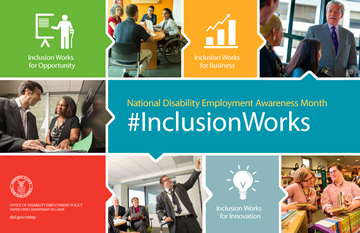 October, 2016 —
Reflecting the important role disability plays in workforce diversity, this year's National Disability Employment Awareness Month (NDEAM) theme is "#InclusionWorks." Observed each October, NDEAM celebrates the contributions of workers with disabilities and educates about the value of a diverse workforce inclusive of their skills and talents.

NDEAM dates back to 1945, when Congress declared the first week in October "National Employ the Physically Handicapped Week." To learn more about the origins and evolution of NDEAM and other important events in disability employment history visit the Department of Labor interactive timeline.

Ability Connection works with several Medicaid waiver-supported employment agencies such as Launchability and Lifepath Systems that provide job coaching and help in finding employment.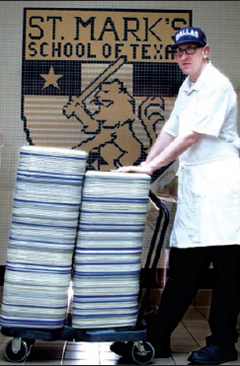 Shawn found a home at Ability Connection Texas twelve years ago after his mother brought him down from Chicago and abandoned him in Dallas, hundreds of miles from the only city he knew. Developmentally disabled, Shawn is an affable 42-year-old and loves to talk sports. He lives in Jubilee House, one of Ability Connection's community homes, with five male roommates. Together the guys enjoy watching action and crime shows. Like most men, Shawn is very proud of his job at St. Mark's School of Texas. He works as a member of the food services team and he gets himself there by traveling on DART buses. While on summer/holiday break Shawn participates in Ability Connection's adult day habilitation program, IMPACT, where he spends the day in the computer lab keeping up his social media and hanging out with the guys. Not just an avid sports fan, but also an athlete, Shawn rides his exercise bike for an hour every morning and runs the 50 meter dash at Special Olympics.
---