Companion Care Services
Ability Connection Companion Care
Host Home/Companion Care is an option within the Home and Community Based Services (HCS) program that allows the individual with a disability to remain in their own home, the home of family member or a friend after the age of 18. What makes this possible is that the primary caregiver, whether that be the client's parents, relatives or a close family friend, receives a daily rate of pay for assisting in their care. This caregiver lives full time with the individual. The rate of pay is based on the individual's level of care.
What sets Ability Connection Texas apart from other HCS providers?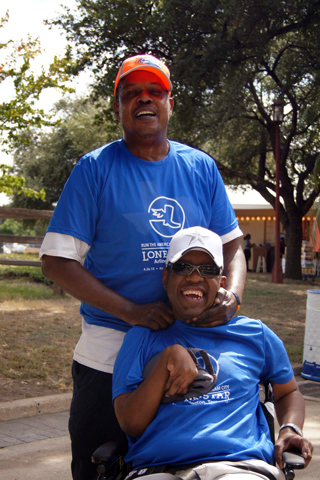 Ability Connection prides itself on its outstanding customer service, going above and beyond by providing detailed training to all companion care providers. This ensures that there is a complete understanding of their responsibilities as paid providers. Ability Connection's HCS staff are available for questions and concerns to all clients and caregivers. Ongoing training is always available to our Companion Care providers to enable the individual(s) they serve to live with personal freedom and autonomy while receiving the care and service they need. Ability Connection maintains regular contact with the individual and their Companion Care provider; including phone calls, and home & community visits.
How you can get involved
There is a great need for compassionate, loving adults who have a strong desire to serve people with disabilities to serve as Companion Care providers in our communities. Companion Care providers must be available to have someone with a physical or intellectual disability live with them just like a family member. A detailed screening process is involved to ensure that all of Ability Connection's Companion Care providers meet the requirements for this kind of work. If you are interested in learning more about Ability Connection's Companion Care program, click the Contact Us button on the navigation bar above.
Do you know someone who has a diagnosis of an intellectual disability (or related condition) and qualifies for Medicaid waiver services? If so, they may be eligible for HCS services. Eligibility guidelines may be found at http://www.dads.state.tx.us/services/faqs-fact/hcs.html. Enrollment for the HCS program is overseen by the Local Authority. To find the Local Authority in your county, please visit http://www.dads.state.tx.us/contact/search.cfm (enter your city, then scroll down to see your Local Authority listing). Contact your Local Authority to enroll for HCS services.